Acer Iconia Tab Review
By Humphrey Wanjala - Sun Aug 12, 9:21 pm
Acer and I do not have a good relationship so far. About 3 years ago, I purchased an Acer laptop for probably $400. The laptop was to be used just for journalism and such related jobs instead of other CPU intensive tasks because the laptop had only 1GB of RAM, an AMD processor clocked at about 2GHz, and running Windows Vista. Long story short, the laptop soon started deteriorating and it lasted me about 6 months so I just decided to go out and purchase an MSI gaming laptop instead of wasting precious cash on an Acer that will fail me over and over. A few months ago, my iPad decided to take a dive into the pool and by that time I knew it was time to say goodbye to my cracked screen and go out to get a new laptop. I didn't want to spend $600 on a new iPad 3 and I also wanted to get a good tablet that will last me in the long run. So I walked up to the Best Buy employee, and I ended up purchasing an Iconia Tab running Windows 7. So after a super-long intro, let's get to the review.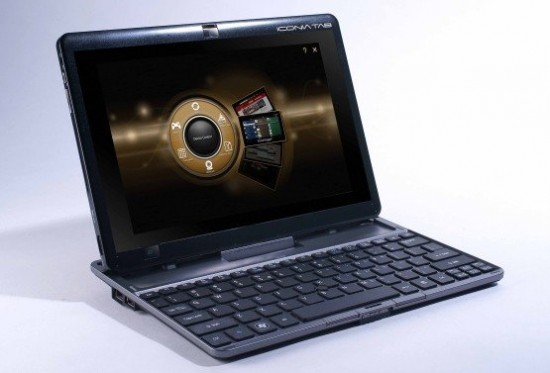 The Iconia right out of the box wows me with its 7" screen, detachable keyboard, and High Definition Cameras. I wanted to get full specs on this machine, so it was great that the tablet includes Windows 7 because I just typed in "system" and the tablet automatically sprang into action. The tablet has 2GB of RAM installed, but only 1.6GB is accessible to the user because of the 32-bit Windows 7 installed. It has an AMD C-50 processor clocked at 1GHz which doesn't sound like much, but the tablet utilizes every "hert" in the processor which really makes the tablet PC performs lightning-fast.
Windows 7 boots off the 32GB SSD drive which isn't as fast as commercial SSD's, but does do very well under normal circumstances. I did do one stress-test to see how fast the SSD could perform. I opened up Media Center three times over and played a bunch of albums at once, opened up all the Microsoft Office applications and set them to load up different files, and opened up Opera, Firefox, Chrome, and Explorer and set them to play some YouTube videos. The computer did lag a bit, but overall it performed very well.
The graphics on the machine are pretty good too. It comes with Radeon HD 6250 Graphics chips which performs very well. I watched "Richie Rich", and a few 1080p YouTube videos. The YouTube videos lagged a bit, but the movie ran very well, and I got to watch a movie that I haven't seen in well over 4 years. It also comes with rear and front-facing cameras each at 1.3 Megapixels. I took a few pictures with my family and it performed fairly well. Sure my Canon 7D performed so much better, but if the tablets all you got, you might as well use it. One thing the cameras are useful for though is doing video chat with Skype or some other online service, which I did with my friends and it, for the most part, didn't lag, and my friends actually knew who I was.
Other components in the PC include AMD and Realtek audio controllers which are very susceptible to lag and cuts in the music, which is definitely a downside for the Acer tablet. The tablet also includes WiFi which performed well also while I was emailing others, and loading up fancy websites with lots of Ads.
On the outside, the tablet includes lots of useful ports and plugs. It has 3 USB ports on the tablet itself. When you connect the tablet to the detachable keyboard, 2 USB ports on the tablet are taken up, but the keyboard includes 2 extra USB ports which proves that Acer actually thought through this tablet. It has one headphone jack, but no microphone jacks; I suppose Acer wants you to use the two microphones that are already on the tablet. It has an array of speakers which are very crisp and clear while I was using it, but don't expect any high-quality surround sound, these speakers are very low-end. It also has, probably the most important port of the modern day-and-age, the coveted HDMI port. The port lets you watch all the movies you download off "The Pirate Bay" on your 1080p HD flat-screen television. The HDMI performs very great and I had no bad things to say about it.
In conclusion, the Acer Iconia Tab performs very well, and is a great alternative to the almighty iPad. The tablet is great for trips where you have to type up work, or another alternative to expensive laptops, because the tablet in itself is just like a laptop. This is my opinion, but I suggest anyone give it a try.