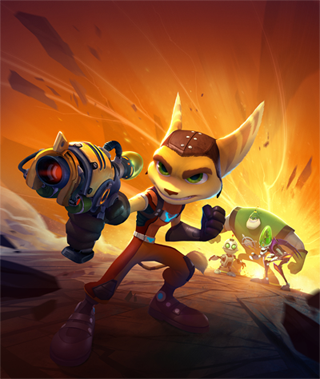 Ah, what can I say about Ratchet & Clank, other than you are an amazing series. You're fun, you're brave, and you're bold – but – you're over too soon and I find myself sad, alone, and cold. But then, out from the blue, you're back! And you've brought friends!

Yes, Dr. Nefarious is up to his old tricks again and has a sinister plan to destroy Ratchet and Clank once and for all! But, of course, it fails miserably and you're trapped inside a giant machine known as the Creature Collector. Now, they're forced to work together – kind of like a temporary alliance between the Ninja Turtles and Shredder, or Sonic and Shadow, or Vegeta and Goku but NEXT TIME WE MEET "FRIEND" it will be on the battlefield! *mysteriously vanishes away*

As well as not being part of the "Future" trilogy and past incarnations, which focused heavily on single player, this game focuses on 4-player simultaneous action and an optional online drop-in/out feature ala the TMNT: Turtles in Time arcade port. You can choose to play as the heroic Ratchet, the ever-loving Clank, the adorable oaf Quark, or the heinous Dr. Nefarious himself.
Ratchet & Clank: All 4 One is set to be released sometime in Fall, 2011. Whenever the heck that is.

I'm Psyguy and THIS is me GETTING REALLY UPSET IT'S NOT FALL…TWO THOUSAND…AND ELE*GERK* No honey bunch, I'm on the lonely train to lonely town. Choo choo…choo-choo-*smack*~EVEN!!! ARRRRGH!!